We love plants! An obvious statement.
Greenscape is reinventing the way people view artificial plants and working to transform any space one artificial plant at a time. It seems daunting, but plants are easy, and at the end of it all, as long as you're doing what makes you feel good and brings you joy in your space and to your aesthetic - you can't go wrong.
Our amazing friend, and colleague, Kathie Madden, started a project on Instagram during isolation called I-Spy. Being creative and doing something she loves helped her stay sane in isolation and allotted her an opportunity to help out her industry friends and local businesses, like us!
Check out Kathie's Instagram feed, she's been making these incredible mini-vignettes, of items all found inside her home, and she would incorporate different items in each collage and as the viewer it's your job to "spy" all the hidden items. The goal of creating these collages is for fun and to help pass the time, but also served as a reminder to shop local and support the businesses within your own community.
Kathie created some collages for us utilizing artificial plants and props she has in her home, to help us promote our plant sale and our business in general in helping people to transform their spaces with artificial plants no matter how big or small.
She started with this home office vignette using big fiddle leaf fig plants and a makeshift desk made of books for, what we deem, the most serene and inviting home work space. You can see it's as simple as a couple larger plants to anchor any space and fill it in with smaller pieces as you so desire. Tropicals, like this fiddle leaf fig, and other palms, are fantastic to use in any space, for little cost they're often tall and fluffy and super impactful. Not to mention we've got a bunch for sale right now, check out our IG Highlights - yes, that was our attempt at a shameless plug.
??
? ?
We love these mini collages, in Kathie's original I-Spy form, for office spaces spruced up with a little greenery. She had this idea for Mother's Day, and how you can help Mom spruce up her work space with plants and flowers - how incredible would this be life size! We can see any Mom working hard in a space like this, but we love it as an all the time space, and you can change it up depending on the season. Fresh spring flowers are a perfect addition and so easy to do when you have an artificial plant base - also tricks people into thinking all of your plant life is living when you incorporate some live elements.
? ?
Kathie created a before and after vignette that we are living for! The before and after imagery really drives home the difference a little greenery can make. You'll also notice it's all compartmentalized, so easy to add a little first, and build on it over time, as you get more adventurous, and more budget. You can start with one potted plant in the corner, and then add in a tree, or some window sill plants or desktop minis. There are so many options, and whatever you like is what is going to work in the space, it's more about the importance of adding greenery. It promotes self-care, good health, and for the writer, a reminder to go outside!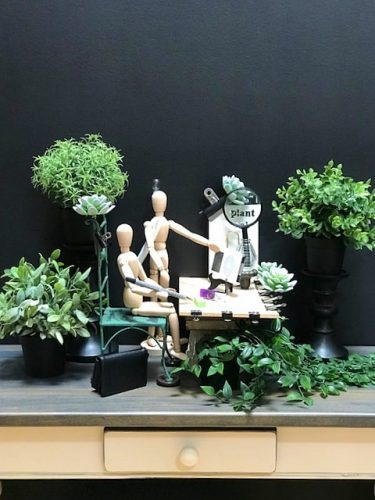 It can be a little daunting with all the plant and planter options and different ways to layout your space, we came across this article recently, that outlines really easily how to style large palms and plants in any space. Bonus - the house featured in the article is house goals. You'll see, you can mix overgrown and wild looks with more polished and intentional looks all in the same space. It's a great how-to reference on everything talked about here.
No matter what plants or design you opt for in your space, the recommendation is start with one green piece you really love and expand on that, simply start with one item and the green inspiration will come, promise! Share with us how you've transformed your own spaces with greenery.