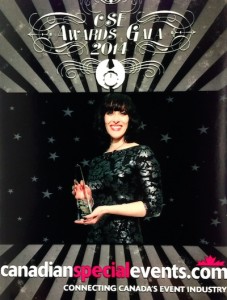 Greenscape is thrilled to announce recent award recognition that has been made possible by the support of our surrounding community and clients. This exciting time of award recognition has been the result of dedication and determination by the entirety of Greenscape's team, inclusive of the decor designs that they work to create for their clients and the public.
The result has been two Spotlight Awards nominations, a Star Award nomination, two Readers' Choice Award wins, and The Spirit of the Industry Award presented to Greenscape's principal, Corinne Kessel. She says, "This would not be possible if it were not for the support of our community. Vancouver has been amazingly supportive and our clients across North America have inspired us to explore our creativity everyday."
Natasha Frankowski, our Creative Events Director, recently attended the Event Solutions Conference in Las Vegas where she was a Spotlight Award Finalist in the category of Designer/Creative Director of the Year. Greenscape was also a finalist in the category of Event Supplier of the Year. The Spotlights are the only industry awards in which the winners are chosen based equally on merit by an Advisory Board, a judging panel of top industry professionals, and by votes from their peers, so it was a true honour to be nominated.
The recent Star Award nomination for "Best Theme Decor under $25,000" is presented by CanadianSpecialEvents.com and recognized the work of Melissa Laithwaite, Creative Director and Holiday Design Specialist at Greenscape for her transformation of the Shangri-La Hotel Vancouver into an "east meets west" 1001 Nights holiday theme. The two Readers' Choice Award wins were for Favourite Decorator or Design Supplier and Favourite Event Suppliers, also presented by?CanadianSpecialEvents.com.
The Spirit of the Industry Award (CanadianSpecialEvents.com) was a large surprise for the Greenscape team. Corinne was honoured to receive this award alongside the passionate and talented Julie Danaylov from A2D2 in Toronto - both women who recognize and support the need for collaboration among colleagues, encourage emerging talents and champion professional development and the continued growth of the industry.