Alert! Alert!
Big news here at Greenscape, figuratively and literally, because we've got more big trees and you can rent them. And if the mood strikes, or the budget requires it, you can install and strike yourself.
That's right, we recently put two new styles of large artificial trees in our rental roster, and we like them a lot and we think you will too. Check them out here.
We have four trees total, all at 12' tall, with a gorgeous full canopy. For you green lovers, we have two ficus canopy trees and for you flowering tree lovers, we have two pink fluffy Cherry Blossom trees.
Both styles have sculpted fibreglass trunks, solid steel bases, and easy to install foliated branches making a super full canopy.
The ficus trees blend well with our deciduous and West Coast trees to make a complete West Coast vignette. On the reverse it stands alone for a bold individual big tree look.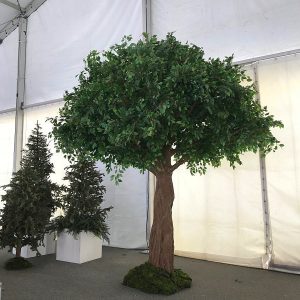 ? ? ?
The same for the Cherry Blossom tree, she is tall and brave on her own, but works well with others to create an incredible forest of pink awesome.
Because they're easy to assemble, disassemble and transport, the cost to rent and deliver and pickup fits in most event budgets.
What do you think of the additions to our tree family? Contact us today to incorporate them into your next event design.