Don't worry, metallics aren't going anywhere for the Christmas season, anytime soon. It wouldn't be Christmas without silver and gold (or bronze for that matter!)
We are seeing a change in how our clients want to incorporate metallics into their holiday look, compared to previous years.
Gold and silver have always been staples for decor and accents during the holiday season. Rose gold briefly appeared on the scene around 2012 and the last few years it has been all about yellow gold as the accent, but this year, we're seeing the shift to silver as the preferred accent - it reads jollier and upbeat.
In 2018, we started incorporating copper and bronze and their popularity has continued to increase. They are unexpected metallics in holiday decor, and we love pairing it with deep versions of other holiday staple colours, like green, but a deep emerald green, or gold, but an antique gold.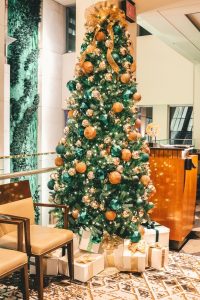 Mixed metals is a yes from us. We love this bold statement that says ?we?re strong on our own, we don't need red or green!
Tell us how you incorporate metallics in your holiday decor?