Christmas is coming!
Ok, it's not actually, summer is barely here, but in the commercial holiday decor world it is coming!
Summer time is the time to think about what you want your office space to look like during the holiday season.
You may be thinking - Christmas decor is all the same!? Actually, there is a huge range of customized decor options for office spaces at the jolliest time of year.
Going HUGE is always so fun, like this 26' tall tree in Edmonton, it has a programmed light and music show that plays every 15 minutes. Essentially, a singing and dancing tree. You can program it with different lights and different songs, you can even customize the display. It's grand, and jolly and oh so Christmas-y.
As much as we would love to install giant singing and dancing trees all around town, it's not realistic for all clients or spaces. We love this look created for the Exchange Building. It is an impressive 18' tall tree, and makes a huge impact with a monochromatic all gold look. We love the large accent pieces like the 6' wall wreath in the same colour pallet to bring it all together. It warms the large open white lobby space, the complementary decor package makes a statement, and a huge dancing tree decor budget isn't required.
Not having an unlimited budget or a lot of space to work with does not mean you can't express your holiday spirit! Check out these office lobbies that we outfitted with gorgeous colour pallets, and filled out the space with clusters of smaller trees, and beautiful lengths of decorated garland and wall wreaths, meaning less overall costs, compared to individual large trees, but with the same visual impact.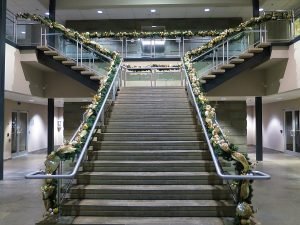 How are you decorating your commercial space for Christmas this year? Don't worry, we won't tell anyone you're talking about the holidays in June!
Contact us today to see how we can impact your space with as much holiday cheer and sparkle possible.