Green walls, which are also known as vertical gardens, plant walls, or living walls, are becoming increasingly popular, especially in commercial environments where greenery is at a premium. These walls offer the chance to incorporate nature into an urban environment to make it more inviting and take up a small footprint. Beyond a gorgeous aesthetic, artificial green walls in Canada also provide a variety of other benefits.
Whether free-standing or attached to walls, indoor and outdoor green walls are available to meet your needs. These walls come in both living and artificial versions. As a result, every organization with an urban footprint can incorporate a touch of nature that might otherwise be missing from their environment.
A green wall offers a lush garden appeal with a tranquil and soothing feel for any professional environment. It is a great way to inspire workers and welcome customers and clients into space. Green walls make an outstanding first impression and are sure to appeal to any visitors who come to your location.
What to Expect from Green Walls in Canada
There are tons of great reasons to incorporate artificial green walls into an outdoor design. The visual benefits are clear as soon as you take in this kind of wall. They are eye-catching and can make a huge impact by offering something beyond the bricks and concrete that make up most of a city. These walls are a great alternative for urban gardening and architecture and can be used by organizations that want an environment that seems a bit more alive. Using low maintenance, UV inherent, exterior grade artificial greenery products that are designed to withstand extreme weather conditions, the Greenscape team is able to bring natural-looking and long-lasting greenery into your exterior space.
In addition, green walls can make people more productive and happier since humans have an innate desire to be in nature. So when you bring in décor elements that reflect nature, live or artificial, viewing trees, greenery, plants and flowers can lift the mood and make people more upbeat and alert. This is known as biophilia, and it can be tapped into by bringing nature into a space to promote relaxation, calm and focus.
Studies show that green walls in Canada can help improve cognitive function, reduce stress, boost creativity, and build a higher level of positivity. In addition, unlike other plants in a space, there's less upkeep while all the benefits remain the same.
How Outdoor Green Walls Work
Green walls can be used indoors and out in all sorts of environments. These walls can be made using various materials and plants, so you can choose what works best for your space. When it comes to designing your custom green walls, the visual impact is key. Replica outdoor green walls can help with insulating buildings, diffusing rainwater, and reducing temperatures but are mainly used to enhance the visual appeal of nature in an urban environment.
Choosing the Right Size and Design
Green walls in Canada can be customized to any size that you like, with a few things to consider. Wider walls are going to be easier to access to provide maintenance than those that are tall. However, the manufacturing and design are similar for walls of any size. It's up to you how large and impressive you want your green walls to be. Custom shapes and sizes, ranging from modern geometrics, soothing circle shapes or standard squares and rectangles are all possible. Framing options can include frameless, wooden, or metal style frames to suit your taste and style.
Which Plants to Use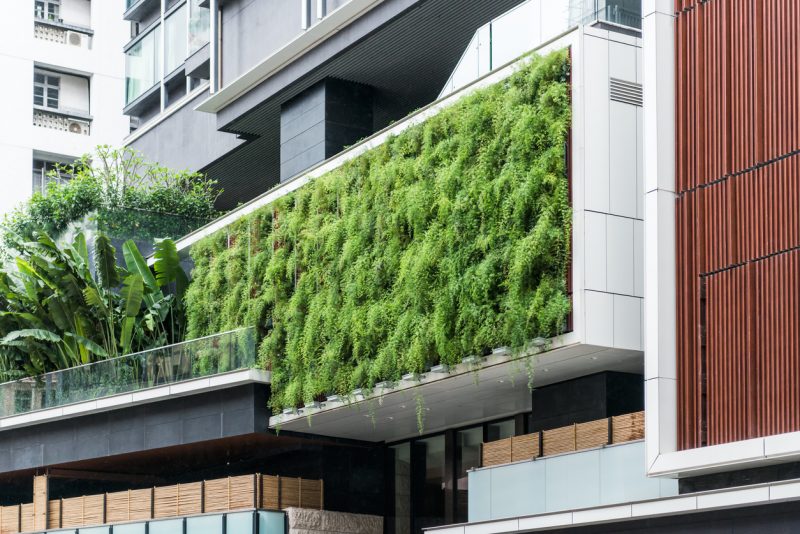 Of course, the right plants are what make a green wall stand out. All sorts of vegetation can be used, so you have the option to choose artificial plants that would naturally be green and lush year round in your climate zone or you can choose to select plants that meet your particular design aesthetic.
Some of the most popular plants for an artificial outdoor living wall include ferns, ornamental grasses, ivy, trailing pea leaf, bromeliads, bird nest ferns, pothos, lipstick plants, succulents, dracaena, and hostas. However, some plants do better in the sunshine, while others thrive in the shade, so if you desire botanical accuracy, we can help advise which artificial plants would naturally thrive in the conditions where you would like your replica green wall in Canada to go.
Putting It All Together
As you can imagine, when working with artificial plants for your replica green wall designs, you can add endless features to your custom green wall. For example, you can select the size, shape, and materials that best suit your taste, branding or reflect the mood you wish to express. From simple to highly customized, Greenscape is your source for personalized artificial and preserved green walls in Canada.
No matter what you are looking for, green walls can offer something special to your space. While living walls can take months to fully establish, artificial walls can make a statement from the first day. So imagine the possibilities, decide what you need, and we can help you start creating the green wall of your dreams. Talk to us today for ideas and advice for your space!