This week marks the official beginning of autumn. Not that we needed the calendar to remind us! The nights are getting cooler and the beautiful red, orange, and yellow fall colours are starting to show!
But what does the changing seasons mean for your landscaping and plant decor?
New autumn colour palette!
Seasonal parties and important dates like Remembrance Day, Thanksgiving and Halloween!
Moving focus from patios and gardens to lobbies and indoor spaces!
Interior accents like centerpieces, lighting installations, and party decorations!
Planning your decor and displays for the festive season!
Introducing artificial plants to replace seasonals!
Greenscape is here to help!
Creating unique and stunning decor for your events, parties, and seasonal displays!
Providing long-lasting or artificial plants for the colder season!
Making your decor dreams a reality!
It's always hard to say goodbye to summer. That is, until you remember all the great things that come with fall!
?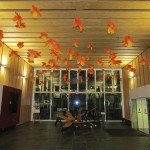 ?