While the last few months have been incredibly busy with exciting new projects, the team at Greenscape Design and Decor would like to take the time to announce our recent award wins that we have been so honoured to receive. Faced with logistical challenges and high design standards, we worked collaboratively with our full team and our clients to bring so much great work to life in the past year. All of these awards are the result of incredible team effort and a passion for bringing meaningful, sustainable, and inclusive installations to our local community.
Earlier this year in June 2022, we were proud to be award recipients of 3 ILEA Vancouver Awards, as well as being finalists in 2 other categories. The ILEA Vancouver Gala Awards recognize excellence amongst the ILEA Vancouver membership.
We were pleased to receive ILEA Vancouver Awards for Best DEI Initiative, Event Supplier of the Year, and Best Event Design and/or Decor Under $50 000. We were finalists for Event Professional of the Year (for Corinne Kessel, CSEP) and Best Event Design and/or Décor Over $50 000.
In August 2022, we were pleased to be a finalist for 2 ILEA Esprit Awards – Best Design/Décor under $75 000 USD and Best Design/Décor over $75 000 USD and a winner in the category of Best Event Logistics. We were particularly proud of winning the ILEA Esprit Awards for Best Event Logistics, not only because it is an international awards competition, but also because it is a category that recognizes all the "behind the scenes" work that we do, to make the impossible, possible, and highlights the hard work that goes into making magical experiences look and feel effortless.
Also in August of 2022, we were proud winners of 3 Biophilic Design Awards, which is an international awards program that is open to interior landscaping companies worldwide. We were Gold Award Winners in the following categories: Moss Wall Art $20 001 - $30 0000, Cut Floral, Artificial Foliage, Artificial Floral Work $100 001 - $250 000, and Holiday Décor $250 001 - $500 000.
Finally, to close out our awards season, we were excited to see the Canadian event community come back together to celebrate the 25th Annual Canadian Event Awards live from the Liberty Grand in Toronto. Our team at Greenscape Design & Décor was a finalist in the Best Event Design/Décor $150 000+ category and a proud winner in the Outstanding Logistical Achievement category.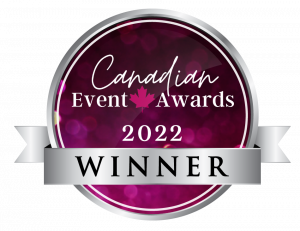 We are thankful to our clients for the unique and creative opportunities they trust us with. We feel gratitude everyday as a team that we work in an environment we have built together where we feel safe, welcomed, respected and empowered to be our full authentic selves. We offer thanks to all the people that make these award programs happen and their hard work to honour the achievements of our industry colleagues, it is important to celebrate all the amazing accomplishments of our community!